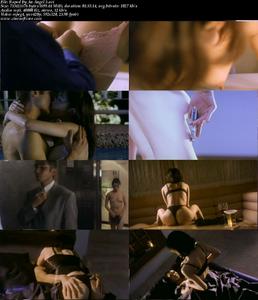 Information about the film:
Title: Raped Angel 3: Sexual Fantasy Wizard of torture
Original title: Keung gaan 3: Ol yau waak / Raped by an Angel 3: Sexual Fantasy of the Chief Executive
Year: 1998
Genre: Thriller, erotica
Directed by: Aman Chang
Cast: Alex Fong, Simon Lui, Angie Cheung, Pinky Cheung, John Ching
About the film:
Lee - a major politician, one of the most likely candidates in the upcoming elections, suddenly begins to see strange things, and maloobyasnimye, namely, walking about in front of him in a negligee women. He does not understand what was happening to him and calls for help and his former mistress, became a time of their separation therapist. At the same time in a building owned by Lee, is a series of rapes of female workers, which becomes the latest victim of Chi, the sister of the policeman leading the investigation on this case. All clues lead to Lee, but he does not remember anything from that night, when the crime occurred.
Issued in Hong Kong
Duration: 1:35:15
Translation: Cantonese
Subtitle: English(.srt)
file
Quality: DVDRip
Format: AVI
Video: Xvid 592x320 23.98fps 893kbps
Audio: Dolby AC3 48000Hz stereo 120kbps
Size: 699Mb
http://filepost.com/files/824afm45/RBAA3.rar